We've developed some preferred rental packages for out customers, and we can custom design a rental package to suit your needs.
Small event packages
Package pricing includes delivery and set up at your event within 20 miles of Joshua Tree, CA. Use the rental as long as you need and we will pick everything up when your event is finished. Hassle free sound in the desert.
These packages feature self-powered speakers with a wired microphone and headphone hookup (so you can play music from your mobile device).  We can customize packages, as needed, to ensure you have the great you need to make your event a success. We can also provide technicians to run the equipment at your event.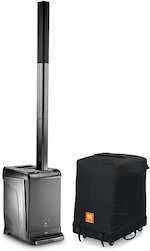 JBL EON One Pro Package (Smaller events and live performances for up to 100 people. System can run on battery power for events in remote locations)
$150/day
$300/weekend
$450/Week
JBL EON One Pro battery powered speaker system with built-in mixer and FX
Wired microphone cable and stand
Mini-plug headphone cable
Add Sennheiser AVX wireless microphones ($50/channel)
Turbosound Siena package (Any musical performance or dancing for up to 300 people)
$399/day
$749/weekend
$1200/week
2x Turbosound Siena 12″ Tops
2x Turbosound Siena 18″ subwoofers
Speaker stands
Analog mixer
Microphone with stand and cable
Mini-plug headphone cable
AC power distribution, as needed
Add monitor wedges (+$50/each)
Upgrade to Midas MR12 tablet controlled digital mixer (+$50)
Upgrade to Soundcraft Ui24r digital mixer (+$100)
Add Sennheiser AVX wireless microphones ($50/channel)
Add DJ Equipment package (+$299/day)
DJ Equipment Package
$349/day
2x Pioneer CDJ900NXS Media Players
Pioneer DJM-900NXS2 DJ mixer
ADJ Pro Event Table
1x Powered monitor wedge
Upgrade to 2x Technics 1200M3D turntables ($+50)
Upgrade to 2x Pioneer CDJ2000NXS2 media players($+150)
Large Event Packages
These packages are for larger concert events and festivals. They will require staffing and labor is additional to the rental price. We offer additional upgrades to these packages in order to help meet rider requirements for touring acts. We also have "stacks and racks" service available for experienced operators.
EAW KF300 system package (4-way system suitable for 300-800 people)
$999 + Labor
2x EAW KF300 speakers
2x EAW SB600 dual 15″ subwoofers
Lab.Gruppen Amp Rack
Behringer X32 digital console with D.Snake
4x Powered monitor wedges
24x Microphones, cables and stands
AC Power Distribution including stage power