Here's info on our smaller speaker rental packages to help decide what sound system rental option is best for your event
All our sound system rental packages include delivery and set up at your event within 20 miles of Joshua Tree, CA. For events outside our free delivery area, we add a reasonable mileage charge. All of our speaker rental packages include basic conveniences like signal cable, AC cable, wired microphone and AUX cable. Use our equipment as long as you need and we will pick everything up when your event is finished.
With Bad Quail, there are no hourly rentals, and no driving around trying to drop off gear after your event. At Bad Quail, we do out best to make hiring sound for you event a hassle-free experience.
Small event sound system rental packages
These packages feature self-powered speakers with a wired microphone and headphone cable so you can easily play music from your mobile device.  We can add options, as needed, to ensure you get the gear you need to make your event a success.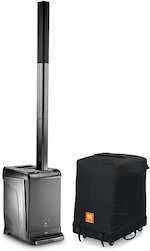 JBL EON One Pro Package 
 Great for wedding ceremonies, background music and small parties. Also fantastic for acoustic acts that just need a bit of vocal and instrument amplification. EON ONE Pro can run on battery power for events in remote locations.
JBL EON One Pro battery powered speaker system with built-in 6-channel mixer, bluetooth input and FX
95dB max SPL
Electro-Voice EVOLVE 50M package 
This is far and away our most popular option for speaker rental. Great for DJ/dancing or almost any musical performance for 150+ people. This is our go-to system for smaller events. The package has a built-in digital mixer with effects and can accommodate bluetooth and 3.5mm inputs from your playback device.
1x EV EVOLVE 50M Column array speaker with subwoofer and built-in digital mixer
1x EV EVOLVE 50 Column array speaker with subwoofer
110 dB max SPL
Works great with a DJ Equipment package
GIGBAR Flex DJ light bars can be mounted on top of this system
RCF TT+ package
Professional touring grade system suitable for concerts, small festival stages and dance event with 200-500 people. 
2x RCF TT20-CXA powered loudspeakers
2x RCF TTS15-A powered subwoofers
125dB max SPL
Small analog mixer
Do you need a stage production package to go with your sound system rental?
Here's everything you need for your club level act. You can mix the show yourself on your phone or tablet. A nice selection of microphones and monitors come along, as well. Most acts can play any venue in the Joshua Tree area with this package, and we can add more mics and wedges, if you need. We can also provide an experienced engineer to mix your show.
Soundcraft Ui24r Tablet controlled digital mixer
Ubiquiti UniFi commercial wi-fi network
4x Powered monitor wedges
20x Assorted microphones, cables and stands
AC Power Distribution including stage power stringer